AMD's latest lower-end graphics card, the RX 6600, is its sixth RDNA 2 offering in the past 12 months—a fact that might lead you to believe the company is making a killing in the world of PC GPUs these days. But the little public-facing data we have doesn't bear that out.
Both AMD and Nvidia are in similar chip-shortage boats—all leaky and going down the same hellish supply chain creek without a paddle. Yet, Steam hardware surveys have told a tale of Nvidia enjoying a noticeable installation lead with its current-day RTX 3000 series of GPUs (5.76 percent of all registered GPUs on Steam in September 2021, excluding laptop variants) over AMD's RDNA 2 (0.16 percent in the form of a single GPU, and that's not a decimal-point typo). You might assume this would compel AMD to try something drastic with its latest GPU.
That's not the case this month. AMD's RX 6600, which goes on sale at some point today, is nowhere near the drastic card that AMD arguably needs right now. It's loudly positioned as a "1080p" resolution card… just like its older sibling, the RX 6600XT, which came and went in August. In fact, both cards involve AMD's Navi 23 die, with the 6600 either copying or slashing specs while also dropping in MSRP from $379 to $329.
If you're looking for a smaller, modern GPU with low power draw, you may be tempted by the RX 6600's compromises. But I currently struggle to recommend it.
132 W can only deliver so much
The biggest issue is that AMD has positioned the 6600 to compare directly to Nvidia's superior RTX 3060 in terms of size, low power draw, and MSRP. In most respects, Nvidia's identically priced RTX 3060 wins handily.
AMD's best exception in this showdown is power draw: the RX 6600 is the gentlest wattage-sipper of either the AMD RDNA 2 line or Nvidia's RTX 3000 series. At 132 W, that's 22.4 percent less than the 3060. Like that card, the RX 6600 measures a reduced 8.125 inches (20.64 cm) long—enough space for two standard-size ventilation fans. Yet, sadly, AMD didn't take this opportunity to beat Nvidia in terms of thickness; you'll still need two slots in your PC's case.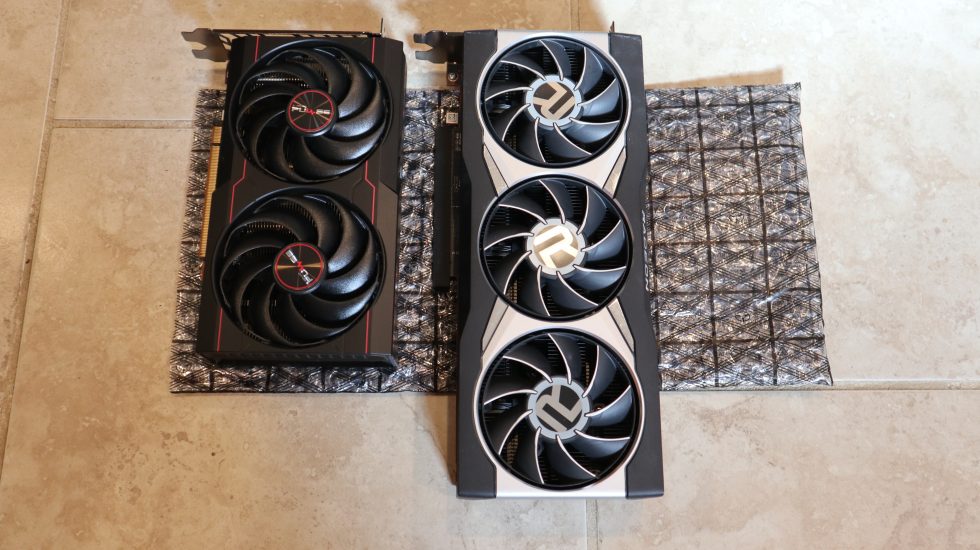 As a direct MSRP faceoff, I have to be frank: AMD can only get away with such a bold move in a marketplace where MSRP has often been meaningless. You're picking this over the RTX 3060 for two reasons: you can actually find an RX 6600 in stock, and you want a smaller, modern GPU that might fit into a packed case with lower power draw as a massive priority.
Otherwise, as far as the superior card at that price point, the stats speak for themselves.
Testing notes: the current Ars testing rig employs an i7-8700K CPU, overclocked to 4.6 GHz, with 32GB DDR4-3000 RAM, a PCI-e 3.0 M.2 system drive, and a few SSDs for game and software installs.
Additionally, the above and below benchmarks are run at 1440p resolution, as opposed to the 1080p figure that many of these GPUs are advertised for. We do this to better ensure that the GPUs are being flexed. This is the same reason each benchmark is generally run with either "very high" or "maximum" settings, even though in the real world, you may run these games on your target PC with certain overkill settings turned down. You'll find different results with lower resolution counts and reduced visual settings, but doing so may lead to more CPU-bound benchmark results.
Interestingly, the older RTX 2060 Super contends quite well with the RX 6600, and it includes the same amount of VRAM: 8GB of the GDDR6 variety. The RTX 3060, meanwhile, leads in the VRAM count against both the RX 6600 and RX 6600XT with its healthy allotment of 12GB GDDR6 VRAM. The above and below benchmarks ultimately make a case for the RX 6600 either remaining within a stone's throw of the competition or getting outright steamrolled—though the older, and very popular, Nvidia GTX 1070 is in this benchmark mix to remind you of what kind of gains you can expect if you jump up from a dated GPU.
Back 4 benchmarks?
Should power efficiency be paramount for you, the RX 6600 does at least perform admirably in terms of the power-per-watt matrix. In a particularly hot-off-the-presses example, I managed to run the brand-new co-op shooter Back 4 Blood at a roughly 88 fps average with all settings maxed out at 1440p resolution. This game is impossible to neatly benchmark thanks to factors like other online players and some wacky online-authentication freezes in its menus. Still, as an anecdotal example, Back 4 Blood may very well be your ideal game with a GPU like this, since it's tailored to look pretty on modern hardware while also emphasizing frame rates over visual flourish.
Slap Nvidia's RTX 3060 into the same testing rig and a similar Back 4 Blood testing scenario, on the other hand, and you wind up with a slightly higher fps value (roughly 95 fps) and a slightly less volatile frame rate in terms of "1 percent lowest" counts. And that's at native 1440p resolution. Back 4 Blood also ships with each GPU manufacturer's newest upscaling standards, AMD's FSR and Nvidia's DLSS, and as I've previously discussed, Nvidia wins this battle. FSR is immediately blurry at its "ultra quality" setting when it upscales from a lower resolution to 1440p, while DLSS's maximum setting looks nearly identical to native rendering. (Both cards will get you to a fuzzy 4K signal if you want, and DLSS is also superior in this respect.)
FSR is a welcome, last-ditch way to squeeze a few more frames, but any time a game can leverage DLSS, that solution will typically look and perform better. In both cases, you currently can't mod either DLSS or FSR into a game; either a game's devs build it in, or they don't. So placing a bet on Nvidia DLSS isn't foolproof, as particularly evidenced by Ubisoft's recent Far Cry 6 (which is smothered in promotional AMD logos and, whaddya know, doesn't include DLSS compatibility hooks).
Verdict: AMD's latest is a bummer
In my every testing session with an AMD GPU over the past year, I've been able to point to various wins over Nvidia in certain rendering scenarios. Many of these wins don't include DLSS or ray-tracing elements, and for plenty of users, that's where the meat is: in general-purpose, brute-force rendering, not proprietary hooks that drive optional bells and whistles.
I cannot say the same about this week's vanilla 6600, without the "XT" suffix. This is exactly the low-powered, cut-down GPU that you'd hope to see closer to the $250 range in a sane market, as a just-fine offering for average, semipower PC gamers who put off upgrades until a tolerable, sensibly priced GPU shows up. The chip-shortage tax on this doesn't make it easy for me to giddily recommend it.
If you've been hanging around for the past year-plus eager for something, anything, to replace a 4- or 5-year-old GPU and command consistent 60-and-up frame rates in modern 1080p games, sure, the 6600 will be fine. But this card's original die is far more tantalizing and future-proofed in its XT packaging for only "$50" more (MSRP scare quotes attached, of course), and Nvidia handily wins this round with its equivalently priced, 8-month-old rival.