A lot of challenges and events in COD Mobile Season 7 unlock a tonne of free goodies. Before midseason content is released, each season features a themed event that lasts for a while.
Mobile's new Seasonal Event is now live. Called Cyber Attack, the new event sees players try and learn more lore about in-game events, while also unlocking
new rewards such as new weapon blueprints, skins, charms, and more. These include Charm – Crow Feather, SKS – Technic Turret, credits, rare camos, and
weapon XP. Players can even unlock Zero-Dark Ops as an in-game operator.
The Cyber Attack-themed event for this season of COD Mobile is now available. By grinding the many multiplayer and Battle Royale modes in COD Mobile,
players may unlock a tonne of free goodies that are readily available.
Today, Solid Gold, a brand-new Battle Royale mode for COD Mobile, also debuted. Players will drop into a standard Battle Royale game in this mode, however,
all of the ground loot on the island will be legendary rare. This also includes any modifications that gamers might add to their preferred weapons. . The new
event sees players try and learn more lore about in-game events, while also unlocking new rewards.
READ MORE: YouTube Is Adding New Monetization Capabilities for YouTube Creators
How to play Cyber Attack event in COD Mobile
To earn Zero's XP, COD Mobile gamers must compete in multiplayer or Battle Royale games. More XP will be earned from the modes the more time they
spend playing. Additionally, more XP can be gained based on how many foes are eliminated during the matches.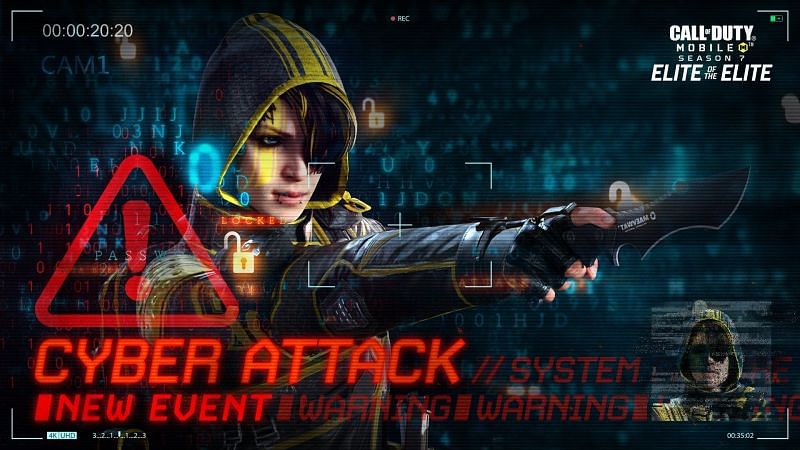 This XP can be used by COD Mobile players to raise Zero's bar on the event page. The objective is to get 2000 XP, at which point players can access the Zero operator skin.
Players are not required to play any certain mode in order to level up. Any multiplayer or Battle Royale mode will contribute to Zero's XP tally. Players can
spin the random reward counter at least four times every day to earn more free gifts. This counter has a six-hour cooldown.
How It Works
By visiting the Events page on the main menu, players can take part in the Cyber Attack seasonal event. Players can attempt to spin the roulette wheel there in
order to win prizes. However, players can improve their odds by strengthening Zero before spinning the wheel in order to maximize their chances of obtaining better rewards. Playing in multiplayer and BR modes allows players to accrue "strengthen" points.
It should be noted that each award can only be earned once, with the exception of the 1000x Credits. As a result, whenever they receive a reward, their chances
of receiving another sizable reward rise automatically. Additionally, players are only permitted to spin the wheel, or "Operation Start," once every six hours.
The Cyber Attack Seasonal Event is a part of Call of Duty: Mobile's Season 7 Elite of the Elite update. As with any other update, this one adds a bunch of new
additions such as new maps, weapons, and more. You can learn more about the update here.
Earning "Strengthen" points additionally enables players to unlock Zero. Players will also pick up on in-game mythology along the way. Players will discover
"her (Zero's) objective to track down and examine the deadly and illegal Nova 6 Gas, and how all roads always seem to lead back to the Five Knights," according to a Reddit post.
READ MORE: Baki Season 4 Release Date and Time on Confirmed! Here Are Cast, Plot, Trailer & Spoilers!
Cyber Attack event reward list in COD Mobile Season 7
1000 Credits
10 Weapon XP Cards
Clown- Navy Digital
Knife- Navy Digital
Boat- Navy Digital
M16- Navy Digital
ATV- Raven's Wing
Helicopter- Raven's Wing
NA-45- Raven's Wing
UL736- Raven's Wing
DR-H- Raven's Wing
RUS-79U- Raven's Wing
Sticker- Plugged Crisis
Charm- Crow Feather
SKS- Technic Turret