Minecraft is a wonderful game where the players can showcase their creative skills as well. Players have created mesmerizing worlds with the uttermost detailing. The visuals of the game can also be enhanced by adding Minecraft shaders to the game. These Minecraft shaders help the users to apply textures to make them more real looking and more good-looking to the eyes. But still many users don't know about the best shaders for the Minecraft edition, so here we are with all the details you need.
There is no denying in saying that Shader's addon the never seen before experience to the Minecraft game and breathes life into the game. The amazing graphics and visual effects make the game a realistic one.
How To Install Shaders In Minecraft
If you want to install the Minecraft shaders and add them to Minecraft, then you have to follow some steps. Follow this simple guide to help yourselves to download shaders to Minecraft.
Step 1: Firstly you have to install the latest version of OptiFine HD from the official site.
Step 2: After that, you can execute the automatic installation process for OptiFine HD.
Step 3: Now start downloading the shader pack you required.
Step 4: This is the time to search Navigate for the ".minecraft" folder. If you are working on Windows, then it can be found in the folder named "%appdata".
Step 5: Instantly start copying the shader pack zip version in a folder and paste it inside the folder known as Shaderpacks that will be found under the .minecraft folder.
Step 6: Now start Minecraft. For this, you can visit Menu. Under menu options, you can click on options. Under the options category, select Video settings and then pick Shaders.
For this, you also have to enable the shaders and pick the .zip file you have installed.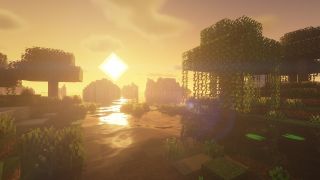 System Requirements for Minecraft Shaders
With a few minor annoyances, Minecraft is one of the most enjoyable games on the market today. These graphics effects are so easy that they can be implemented on practically any computer. Players can use these mods to improve the visuals of the game. However, there are some basic system requirements that must be met.
So, before you start installing a Minecraft shader mod, make sure your machine meets these minimum requirements. Some Shader Mods may not be able to run at all with the least set of needs, but most Shader Mods can run with the suggested set of requirements. You can see the minimum and recommended system requirements for Minecraft Shaders below:
Minimum
\sCPU: Dual-core Intel or AMD processors made in the last 5-7 years are required.
AMD Radeon Rx 200 Series or GeForce 700 Series with OpenGL 4.5 RAM is required. RAM of at least 4 GB is required.
Recommended
Intel or AMD quad-core processors of the previous 4-5 years are required.
GPU: A GeForce GTX 1070, RTX 2070, or AMD RX 5700 or above may be required. RAM: Additionally, it requires at least 10GB of RAM.
Best Shaders for Minecraft Bedrock Edition in 2021
#1 Naelego's Cel Shaders
The addition of these shaders to Minecraft is one of the nicest things that have ever happened to the game. Hence, we have the equally large and fruity Naelego's Cel Shaders. With a little shine, it's one of the most dazzling shades.
This shader is perfect if you're looking for a mix of Minecraft and Borderlands. This shader features a variety of bright colors, as well as distinct black borders. It's one of the greatest and most authentic Minecraft shaders out there. It's easy to see why it's so popular because of its new look and everything else.
#2 Continuum Shaders
It's a well-known fact that when someone looks at many shaders, they automatically assume that they're merging. Actually, a lot of specialists get caught up in it and confuse Chocapics with Cyboxes as a result. Continuum Shaders, on the other hand, are an entirely new breed. There is no need to worry if you can't tell one shader from another because they are all displayed independently.
Its Triple-A lighting effect, which is widely regarded as the best in Minecraft, is the primary reason for this. There is numerous evidence of its natural beauty, such as its billowing vegetation, rippling waters, and sunlight bouncing off its surface of it. Continuum always jumps out when discussing the effects of a single shader set. After working with this shader for a while, all other shaders will seem clunky and unwieldy in comparison.
READ NEXT: How to Get Paramount Plus on Xfinity Flex and X1 in 2022
#3 ProjectLUMA
ProjectLUMA is an excellent shader for Minecraft if you are seeking a powerful shader. There are many special effects for light rays and lens flares in this photo-realistic shader. These visual effects elevate Minecraft to a new level of awe-inspiring majesty. However, if you're using a low-end computer, this could pose a difficulty. Using this shader on low-end PCs does not work properly.
In addition to highlighting water's aesthetic and mechanics, the pack also features a few minor tweaks. Lakes, ponds, and oceans appear more realistic and fascinating because of the movement and waves.
#4 ESTN Shaders
The shadows in ESTN shaders are breathtakingly stunning, making them a top choice for Minecraft Bedrock Edition. New clouds, sky rendering, underwater distortion, flora, and water movements with better beacons, and monochrome weather with shimmering stars are shown. Players have the option to enable or disable a wide variety of other chemicals, many of which are still considered experimental.
#5 Cybex Shader
Cybex is a great alternative if you're looking for a simple way to create dramatic shadows. It is also this pack's fault that all of Minecraft's trees have such large intervals between their leaves. Consequently, the light behaves in the same way as it would if it were shining through real leaves.
A variety of forms, such as Real, square, and voxel-based foliage, are available. It's one of those shaders that you start once and then wonder what to do with. You don't have to do anything. Take a look at the stunning shadows cast by the mountains, too.
#6  Olesik  Shader
If you're playing Minecraft Bedrock Edition and don't have access to a high-end computer, consider using Olesik Shader. This shader pack's best feature is that it can be tuned for use on any device, no matter how weak it is. As a result, you should not be concerned about the PC you are now using. For those who don't have a lot of power, it's still a lot of fun. There's obviously a lot more to Olesik Shader than water and plant movement and rain impacts. You can't go wrong with Olesik Shader.
#7 Sushi Shader
One of the best shaders for Minecraft Bedrock Edition is Shushi Shader. It has a plethora of personalization options, so it may be tailored to the preferences of the players as well. A well-known heavy lifter shader, it has been around for quite some time. It can also alter the game's appearance and feel to suit your preferences.
This shader also requires a high-end GPU to run. Everything from realistic water and reflections to dynamic grass and vegetation can be found here. It operates just as well as any other large shader pack.
READ MORE: Couldn't Refresh Feed on Instagram? Here's How to Fix it By Using Different Methods
Final Words :
This is all about "Best Shaders for Minecraft Bedrock Edition". I hope you would found this post informative. If you nodded your head in a YES then do share it with your friends and family. If you still have a query in mind, then you can write to us in the comment section below.