Hello everyone. Do you want to download TikTok videos but don't want the watermark to appear on them? So, now that you know how to download Tik Tok videos without a watermark, what are the simple solutions?
One of the most widely used apps for creating short films is Tik Tok. Tik Tok has a tonne of cutting-edge video editing options that users can use to create videos. Tik Tok gives many ordinary people a head start because it has helped them become huge influencers with billions of followers.
TikTok is downloadable for iOS and Android, and its user-friendly interface enables users to make videos and share them online using sophisticated editing capabilities.
How to download videos from TikTok without the typical watermark is one of the most often requested issues. Therefore, before following the instructions on how to download TikTok videos without a watermark, make sure you have a TIK TO account that is public and that has the setting that permits others to download your films enabled.
How to Download TikTok Videos 
This method is a simple way that makes it possible for you to download TikTok videos on your device. 
Launch TikTok on your smartphone and tap on the video you want to download 

Tap on the 'Share icon' button, then on 'Save video' 

This will automatically save the video on your device 
READ MORE: Common iOS 13 problems And Learn How To Fix them | iOS 13.7 update
What is a TikTok Watermark?
A graphic that is overlaid over the video is a TikTok watermark. A watermark's function is to make the source of the media clear so that it cannot be reposted without credit.
As you can see, TikTok uses a watermark that features both its logo and the username of the original poster:
Let's take a moment to emphasize that you shouldn't upload content created by other users without giving them credit. The unethical practice of content theft can swiftly spiral into a social media disaster. The advice provided below is aimed at content producers who want to repost their own TikTok posts.
As the video plays, TikTok adds a bouncing watermark that will move around. Trying to get rid of it can be made more difficult by this.
How to Download TikTok Videos Without Watermark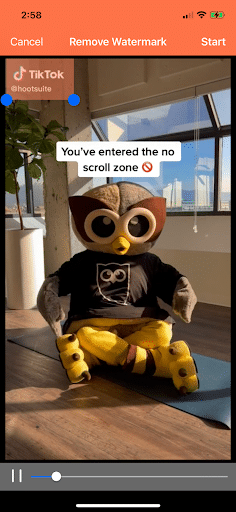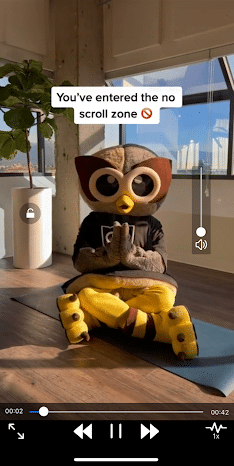 Due to the fact that it frequently obscures portions of the frame, the TikTok watermark is a major irritation. There are ways to download videos from the app without the watermark, but keep in mind that it is best to give the content's original creator credit if you use these methods.
There are many websites that let you download TikTok movies without a watermark, but be cautious while utilizing them as they frequently have flaws. Additionally, if these sites don't allow you to download the information, just try another one or come back another time.
We do not advise using third-party apps because they are dangerous, endanger the security of your smartphone, and invade your privacy. Having said that, the directions for downloading TikTok videos without a watermark are provided below.
Open TikTok and select the video you want to save on your device 

Hit the 'Share' button and then the 'Copy link' option.
Visit https://musicaldown.com

 and paste the link in the search box.

Keep the 'Video with watermark' setting unchecked and tap on 'Download' 
On the next window, select 'Download mp4' and on the following one 'Download video now' 
Here is an alternative website with the instructions needed: 
After copying the link of the video you want to download on TikTok, visit 

in.downloadtiktokvideos.com

 on your device 

Paste the link in the search box and tap on the download button 

On the next screen, select 'Download mp4,' wait for 15 seconds and tap on 'Download file' – this will save the video without a watermark on your device 
A Third Alternative Can Be Used, in Case the First Two Do Not Work: 
Copy the link of the video you want to download and head over to 

www.ttdownloader.com

  

Paste the link and hit the 'Get video' button 
From the options that appear, select the one that says 'No watermark,' and tap on 'Download video' 

The content should save on your device's storage 
Best TikTok Watermark Removers
The TikTok watermark removal that works best for you is the one to use!
The greatest solutions for maintaining quality, however, are those that let you download a movie directly from TikTok without a watermark. This includes the previously stated websites and applications, which save your video without applying the TikTok watermark at all.
The watermark will be blurred by video editing software, which may be annoying. Additionally, cropping the video will alter its aspect ratio and can exclude some crucial elements.
You can save a clear version of the video by removing the TikTok watermark using one of the many programs or websites available. However, the websites are free, whereas the majority of apps charge you to export or post your new video. I, therefore, have a bias toward the websites, and MusicallyDown.XYZ was my favorite for strictly aesthetic reasons.
However, premium membership can make sense for you if you want to use the additional services provided by applications like SaverTok or RepostTik, such as hashtag libraries and caption editors.
You can download and share TikTok content without a watermark using any of these techniques on other social networking websites. Have fun posting!
READ MORE:  Destiny 2: Cast in Iron Quest Steps to Get Iron Remembrance Armor, Point of The Stag Bow
Final Words
So there were our easy guidelines on how to download videos on Tik Tok without a watermark, I hope you liked the content and will overcome the Annoying Tik Tok watermark.