The Free Fire World Series Grand Finals 2022 are slated for May 21 in Sentosa, Singapore, and the championship game will be played offline. The best 12
teams in the world compete in the final over the course of six matches for a single international trophy and a substantial reward fund.
Phoenix Force (now Evos Phoenix), who won the trophy the previous year, encountered no opposition. They are coming back this time with the same team,
but other teams have also caught up. LOUD, who failed to win the trophy in 2021, will make one more attempt to do so.
In addition to that, play-ins champion Echo Esports and Brazilian powerhouse Keyd will compete. Since Vietnamese teams have always performed well, there
are high hopes for them this time.
One of the top Free Fire teams in the globe is Evos Divine. The team will attempt to win their first international competition after taking home multiple major
and local tournament victories in Indonesia.
Qualified teams for the Free Fire World Series Grand Finals
1. LOUD (Brazil)
2. Vivo Keyd (Brazil)
3. Evos Pheonix (Thailand)
4. Attack All-Around (Thailand)
5. Evos Divine (Indonesia)
6. Echo Esports (Indonesia)
7. Team Flash (Vietnam)
8. V Gaming (Vietnam)
9. Vasto Mando ( Portugal)
10. Mineros Esports (Argentina)
11. WASK (Morocco)
12. Farang (Malaysia)
Prizepool Distribution
Out of the $2 million prize pool, the winner will take home $500k. The first runners-up will be awarded $250k while the third and fourth-ranked teams will receive an equal prize pool of $100k each.
READ MORE:  Play Station Store Spring Sale 2022 Is Live Now with Huge Discounts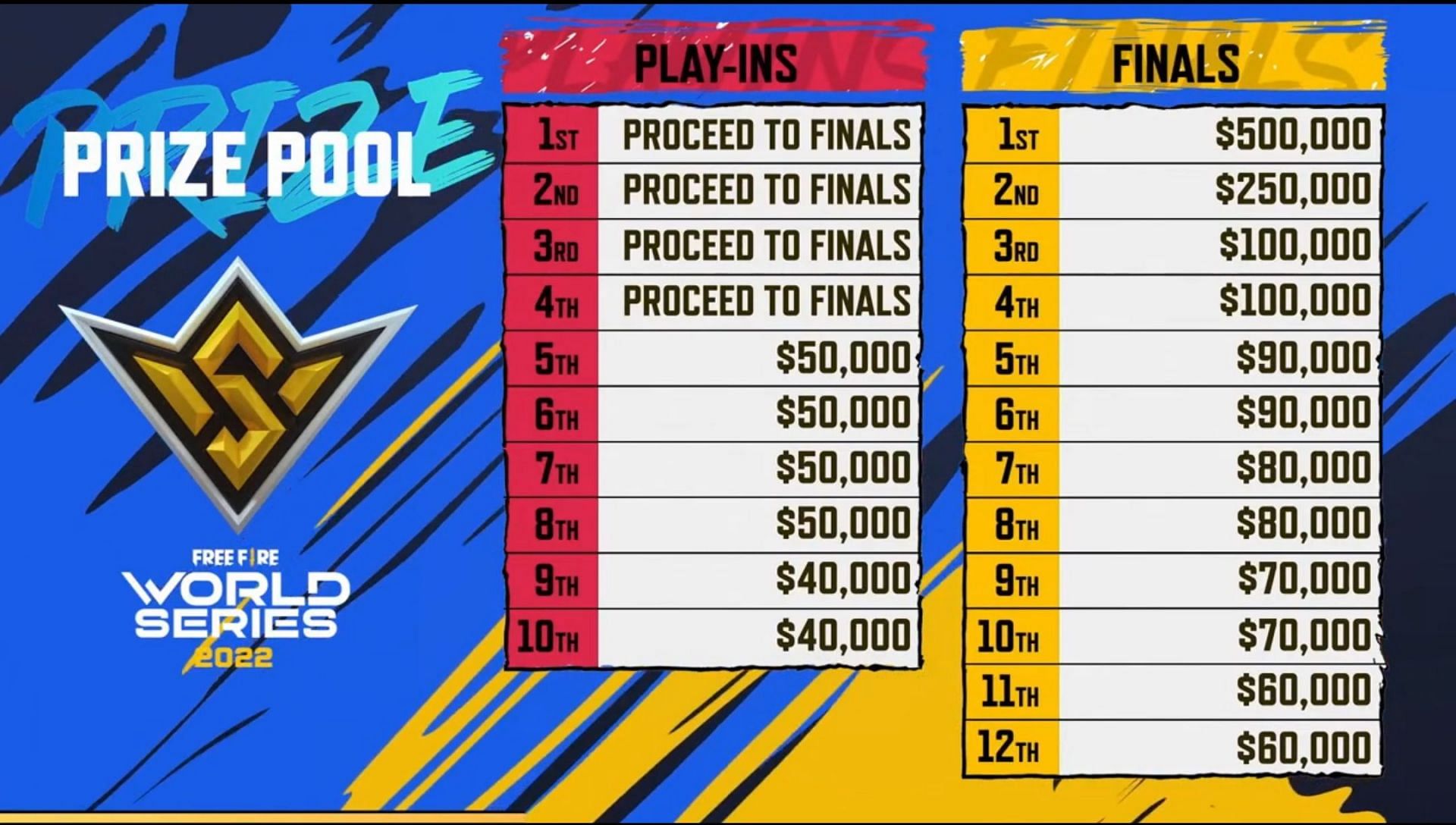 The fifth and sixth-ranked teams will take home $90k while the seventh and eighth-placed teams will get $80k. Finally, the ninth and tenth-ranked teams will each be rewarded with $70k, while the bottom two teams will receive $60k each.
Aside from these, the teams that participated in the play-ins and failed to qualify in the finals also get a share of the prize pool. Ignis Esports, LGDS, and All-Star eSports were awarded 50k USD while House of Blood, Todak, and Feugo took home 40k USD.
The tournament will be streamed on YouTube/Facebook as well as the Booyah channel of Free Fire Esports.
Teams From this Region Will not be included in the Free Fire World Series
Please tell me that Pro League CIS Season 4 was canceled due to the Russo-Ukraine war. Due to this, the slots of the region were also canceled. The free fire was banned in the country in February. Due to this 2 Indian slots also had to be canceled. There was 1 slot from both regions in the finals and one slot in the play-in.
This is the second time in a row that Indian teams will not be able to participate in this global event. In 2021 also South Asian teams were not able to participate in the event due to the travel ban imposed by the Singapore government. Garena Free Fire was declared illegal by the Government of India on 14 February. Due to this, the India Championship had to be canceled midway.
There is currently no information about when the game will be launched from Phil in India. However, Free Fire MAX is currently available for Indians.
What is the Schedule?
The prize pool of this Free Fire World Series is $2 million. It will be organized into 2 stage play-ins and finals. Play-ins will begin on May 14. It will be played as a qualifying stage for the Fine. A total of 10 teams will play in this. Of these, the top 4 will move on to the finals.
These teams will be included in the play-ins
Fire (North America)
House of Blood (Pakistan)
LGDS (Taiwan)
Vivo Keyd (Brazil)
Echo Esports (Indonesia)
V-Gaming (Vietnam)
Ignis Esports (Latin America)
Todak (MCP)
All-Stars Esports (MENA)
Attack All Around (Thailand)
Let us tell you that a total of 12 teams will be involved in the finals. Of these, eight will be directly from their regional events and four will be the top teams from the play-ins. Finals will be held on 21st May
READ MORE: After Play Station 5 Games Being Delayed, Here Are the Ps4 Games Receiving Free Ps5 Upgrades.
These 8 Regional teams have Qualified for the Finals
LOUD (Brazil)
Evos Divine (Indonesia)
Team Flash (Vietnam)
Mineros Esports (Latin America)
Farang (MCP)
(MENA)
Evos Phoenix (Thailand)
Vastomundo (European Union)