The iPhone 15 has been on the market for a month, and according to a recent PerfectRec survey, the Pro variant is the worst-reviewed premium phone that Apple has ever released.
Early customer opinions of the iPhone 15 Pro are less favorable than those of the iPhone 14 series from the previous year, according to a meta-analysis of over 690,000 user-generated reviews.
It may come as a shock, but 73% of customers gave the iPhone 15 Pro a five-star rating, down slightly from 76% for the iPhone 14 Pro. With 84% of reviews, the iPhone 13 Pro had the highest percentage of 5-star ratings.
It's interesting to note that the study hypothesized that overheating problems contributed to the iPhone 15 Pro models' unfavorable response among early adopters, despite the device sporting a titanium frame, the A17 Pro CPU, a USB-C connection, and other camera enhancements.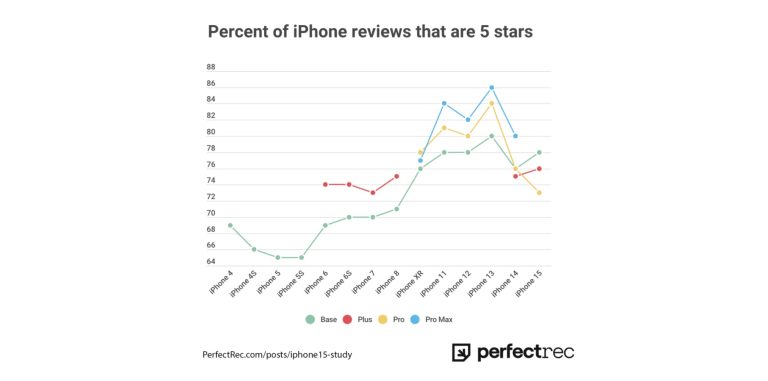 However, compared to the iPhone 14 series, the entry-level iPhone 15 and iPhone 15 Plus models have received higher reviews. Of their reviews, 76% and 78% had five stars, respectively. One possible explanation for this could be that the iPhone 15 models featured more noticeable improvements, like a new design, improved cameras, a USB-C port, and an A16 Bionic CPU.
PerfectRec made the decision to revisit the outcomes of earlier iPhone 14 satisfaction surveys as part of its meta-analysis. The latest survey indicates that the 80% of consumers who gave the iPhone 14 Pro Max five stars remained the same from the previous analysis. However, since its previous investigation, the reviews for the entry-level iPhone 14 model have gotten better. Five months ago, just 72% of people gave the iPhone 14 five stars; today, 76% do.
We hypothesise that there may be some disparity between the perceptions of early adopters and more mainstream consumers on a certain product. The investigation comes to the conclusion that customers who order an iPhone on launch day may have larger expectations and be more easily disappointed than those who buy later in the year.