The heart of the iPhone experience is iMessage. On the message icon, though, you might occasionally see a red exclamation point. Your communication has not been sent or delivered, according to the symbol. The recipient not receiving your communications is often annoying. When there is a crisis, things could get serious.
This post explains how to remove the red exclamation mark from the message symbol.
1. Check Your Network Connection
It goes without saying that messages require reliable connectivity. Due to network issues, you might notice the red exclamation mark. Your connectivity is likely to be poor or even nonexistent in some circumstances. Unlike text, iMessage requires an internet connection. Ensure that the internet is operational. You could test your speed for the same.
Try switching between cellular and WiFi and vice versa. Your message should be sent and delivered right away if the network connection is the problem. Still, having trouble with it? Continue with the subsequent troubleshooting steps.
2. Recipients Phone Should Be Connected
We already highlighted how crucial the internet is to iMessage. Actually, more than just your connectivity is important. Even the recipient ought to receive a respectable network signal. If not, you'll notice that the message wasn't sent. However, once the recipient is in a location with excellent connectivity, the message will be delivered.
3. Check Which Sim/Line You Are Using
You may use dual SIM on the majority of the latest iPhones. The iPhone typically has one conventional SIM slot and an additional e-SIM option. Your iPhone might occasionally transmit messages over an idle connection. My iPhone was by default using the international connection because I had recently flown. I am seeing a red exclamation point message because the connection is not operational.
To alter the default SIM for iMessage, adhere to the procedures below.
Open Settings. Scroll down and select Messages.
Select Send & Receive.
A list pops up. It shows the numbers on which you can receive and send iMessage. Select the active number under Start New Conversations From tab.
Kudos! Currently, the message-sending default number has been altered. Send the message once more.
Your message might not have been sent for a variety of reasons. To send the message again, tap the exclamation point. Verify whether or not the message is being received. Long-press the message if it isn't. There will be a texting option available. Pick text as your format. Please be aware that when sending as a text, you cannot attach files or emojis. However, even SMS messages are useful in emergency situations.
4. Restart the Device/ Cycle Airplane Mode
The ultimate solution to every problem is to restart. The seemingly easy action frequently resolves a variety of problems. I've found that restarting your iPhone can sometimes resolve small issues. Send the message once more after restarting.
Such troubles may occasionally be brought on by network issues. To solve this problem, turn on airplane mode. After 10 to 20 seconds, turn off the airplane mode. Check to see if the message has been sent after some time has passed. If not, move on to the following troubleshooting phase.
In Messages, do you encounter the Waiting for Activation error? Therefore, your iMessage account is not activated, as can be seen from here. Or the app is unable to verify your account with the server. This notice will also appear on the new iPhone. The time it takes to activate iMessage on an iPhone might range from a few minutes to 24 hours. Get in touch with your service provider if it takes longer. And if the phone is unlocked, go to the Apple Store to get it looked at.
Read More: YouTube Analysts Are Looking Into What Makes Some Videos So Popular!
5. Enable iMessage From the Settings Menu.
One of the things that keeps people in the Apple environment is iMessage. The function is accessible on Macs, iPads, and iPhones. Your iMessage account might be inactive. The message is either not sent in these circumstances or transformed and sent as text. Or sometimes a message with a red exclamation point appears. As a result, you must manually enable iMessage. This is how to activate iMessage on an iPhone:
1. Go to the iPhone settings.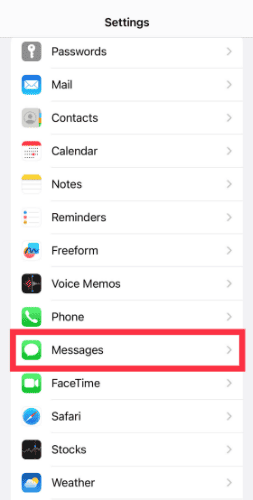 2. Find the Messages option and click it.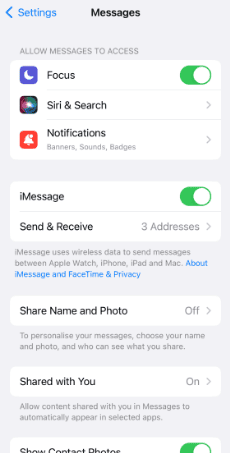 3. The settings for Messages are now visible. IMessage can be enabled or disabled using a toggle. Turn on the toggle.
Ideally, your iPhone or iPad should now be able to use iMessage. Keep in mind that in the event of a bad internet connection or an iMessage outage, all messages would be sent as text. Apple users are the only ones who can use iMessage. In other words, Android users cannot receive iMessages. And even if you do, it will automatically be sent as text.
Read More: iPad Pro Shutting Down Randomly? Problems and Ways to Fix Them!
Advantages of Using iMessage Over Normal Text
SMS and instant communications are combined in iMessage. Apple users and their friends have been using the service for a while. The iPhone has the largest market share in this trend, which is primarily US-focused. In the meanwhile, iMessage is on par with regular SMS in terms of superiority. Better security is a feature, you can share media files, and most significantly, there is no involvement of a third party. With this in-depth guide, you can resolve any iMessage issue.
I hope the aforementioned actions have made Messages' exclamation mark disappear. Have a comment to make? Tell us in the comments section below.