Apple released a small iPhone software update Thursday to address an issue iPhone users have struggled with since iOS 15.4 reached devices. Users took to
forums, Reddit, social media platforms, and Apple support channels to complain that their iPhones' batteries were draining unusually quickly after updating
to iOS 15.4. With the update, Apple now says the issue is fixed, along with a couple of issues with accessibility features.Users are reporting excessive battery
drain after updating to Apple's latest iOS 15.4 update, claiming that their iPhones are no longer lasting as long as they used to before downloading and installing the newest iOS version.
Here are Apple's brief release notes for the update:
This update includes the following bug fixes for your iPhone:

Battery may drain more quickly than expected after updating to iOS 15.4
Braille devices may become unresponsive while navigating text or displaying an alert
Made-for-iPhone hearing devices may lose connection within some third-party apps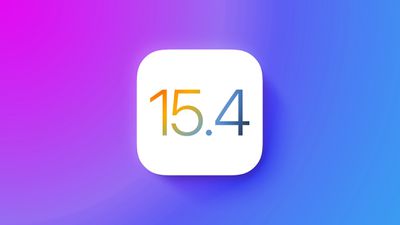 Users have taken to Twitter to voice their poor battery life experience on iOS 15.4, tagging the Apple Support account in hopes of finding a solution. "What's wrong with the iPhone battery after iOS 15.4 update?" one user tweeted to Apple Support, adding "It used to last 1.5 days with significant usage and now it's less than 20 hours."
Frustrated customers have also taken to the Apple Support forums, an online community where users share issues and find solutions from the Apple Support community. Several posts on the forum reveal users are displeased with the battery life experience on iOS 15.4. One user wrote "with the update to iOS 15.4, I experience a "massive" battery drain on my ‌iPhone‌ 8. That means the battery of my ‌iPhone‌ 8 is empty within a few hours. With iOS 15.4, I have to recharge my ‌iPhone‌ at least three times a day."
Apple has responded to these complaints, saying in a tweet on its support account on Twitter that excessive battery drain may be normal up to 48 hours after an update."It's normal for your apps and features to need to adjust up to 48 hours after an update," Apple said in the tweet.
Thanks for reaching out! We'll be happy to help. It's normal for your apps and features to need to adjust up to 48 hours after an update.

Let's have you reach out to us in a DM if this is still an issue after that time so we can help you look into this further.

— Apple Support (@AppleSupport) March 19, 2022
As the update was released last week, some users may be over the 48 hours wait that Apple recommends. In that case, customers may be also be advised to replace their battery if it's low on battery health. Battery health is how much of your battery's original charge it still has. Over time, the lithium-ion batteries in smartphones can lose charge. Apple lets users check their battery's health by going into Settings, Battery, and tapping Battery Health.
When your battery is due to be replaced, iOS will alert you. The lower your battery health, the less charge it can hold and thus the shorter the battery life. Apple says the batteries in iPhones are designed to retain up to 85% health after 500 complete charge cycles. Apple offers more information on maximizing your ‌iPhone‌ battery life and health here.
READ MORE:  BGMI Server Error: How To Fix Busy Server Issue, Restrict Area Code – Deets Inside
iOS and iPadOS 15.4 were released as free software updates to ‌iPhone‌ and iPad users last week. All iOS and iPadOS updates include security improvements, but this latest update also included some major new features. Perhaps the largest feature is the ability for owners of the iPhone 12 and later to unlock their iPhones using Face ID while wearing a mask. You can learn more about using ‌Face ID‌ while wearing a mask and learn about what else is new in the update with our guide.