There could be a number of causes for your iPad or iPad Pro to shut down unexpectedly. It's not difficult to picture a situation in which you attempt to utilize your iPad Pro only to discover that the screen has unexpectedly gone blank. It might be somewhat annoying if you're engaged in activities like gaming or chatting with friends. It may be bad if you are working. Although a screen shutting off at random is uncommon, there are a few causes. Let's think about our possibilities.
I'm going to briefly explain why an iPad Pro screen could shut down erratically and then explore potential fixes. Fortunately, many of these solutions will probably work with other models as well, even if you're not using the Pro model. Fortunately, users will find the repair to be relatively simple. However, be aware that there can be a much bigger issue at hand.
Why Did My iPad Suddenly Go Black?
Your iPad may turn off suddenly for a variety of reasons. The most frequent events involve the battery: either you may be running low on power or the battery may be getting too hot. An iPad may also abruptly shut down due to software problems. It could possibly be a hardware problem, although ideally, that isn't the case. Before we worry about a hardware problem, let's look at some workable alternatives.
How Do I Stop My iPad Turning Itself Off?
Try some of these fixes if you need to stop your iPad or iPad Pro from abruptly going off or shutting down.
Check the Battery
Checking the condition of your iPad's battery should be one of your initial steps. Even though an iPad's battery is, to put it mildly, powerful, it will eventually deteriorate over time. It is advisable to do what you can to take good care of your battery because this is a problem with anything that uses lithium-ion. When charging your gadgets, try to only utilize Apple goods that are properly licensed.
One minute is required.
Fortunately, Apple has you covered in this area, and it's simple and easy to check your battery's status right from the iPad.
From your iPad, go to Settings.
Select Battery.
Choose Battery Health & Charging.
Look at the Maximum Capacity setting.
You're looking for Maximum Capacity because you want to know how your battery is holding up because it will tell you how strong your iPad battery is. You might want to think about having it replaced if it is below 80%. You should be aware that earlier versions of the iPad OS might not show this information, therefore you should check the Battery Level to get a better sense.
iPad Pro Randomly Shutting Down: Update iPad
Perhaps all you require is a nice, accurate update. Your iPad might be experiencing a minor problem that is causing it to randomly turn on and off in the software department. Maintaining your iPad's software ensures that you get the most recent round of security patches as well as preventing issues of this nature.
Of course, you can check for one by going to Settings > General > Software Update.
This might be an excellent time to check your apps while you're updating your software. Check the App Store to see if all of your apps are up to date, and now might be a good time to get rid of any that you aren't using.
Read More: Restarting a MacBook with Keyboard Shortcuts: A Quick Guide in 2023!
Give Your iPad a Power Cycle
Another possibility is that your iPad is becoming overheated. Your iPad will randomly switch down in an effort to cool itself if it is overheating. Although it could be a good idea to let the gadget cool down, you can also power cycle it. This can at least help you determine whether the issue is software- or battery-related.
Disconnect your iPad for a source of power.
Press and hold the Sleep/Wake button for three seconds.
Drag the Power Off slider to shut down your iPad.
Wait around five minutes for the iPad to shut down.
Press the Sleep/Wake button and hold it until you see the Apple logo.
If your iPad does not turn on, try again with the device connected to a power source.
Force Restart Your iPad
When it comes to your iPad, sometimes a simple restart is not enough to fix the problem. A straightforward force restart might be all that's required if you discover that your gadget is abruptly shutting off. Naturally, the method you use to forcibly restart your device will vary on whether it has a Home button or not.
If your device has a Home button, perform the following actions to force a restart:
Press and hold both the Home and Sleep button until the Apple logo appears.
Release both buttons.
You will now have to wait for your iPad to restart.
If Your Device Lacks a Home Button, Take These Actions:
Press and quickly release the Volume Up button.
Press and then quickly release the Volume Down button.
Finally, press and hold the Sleep/Wake button until you are able to see the Apple logo.
Clear the Storage on your device
Another theory holds that an iPad could crash at any time due to a lack of storage. Getting rid of anything superfluous from your gadget can be a good method to stop it from shutting down erratically.
Access Settings > General > iPad Storage by going there.
It's possible that you will have to wait as your iPad calculates the data on your device. You may Offload Unused programs from here, which deletes the programs while keeping the data you need. The software can alternatively be simply uninstalled. Apps you no longer use can be deleted for security reasons as well.
Reset iPad Settings
Resetting the iPad's settings is something else you might want to think about. This is an excellent technique to check if you mistakenly changed a setting that caused your iPad to go down at random and didn't erase any of your data. However, it will reset all of your settings to their original values. As a result, you might want to investigate alternative possibilities before choosing this one.
However, you can easily reset your iPad's settings if you need to by going to Settings > General > Transfer or Reset iPad, selecting Reset, and then pressing Reset All Settings. If you're using an older version of iPadOS, you might only need to go to Settings > General > Reset. Additionally, you could be prompted to confirm the reset or input your Passcode.
iPad Pro Shutting Down Randomly: Factory Reset Your iPad
There is also the option of factory resetting your iPad if everything else fails and the sporadic shutdowns genuinely drive you crazy. Just about everything on your smartphone will be deleted, so think of this as your last resort before proceeding.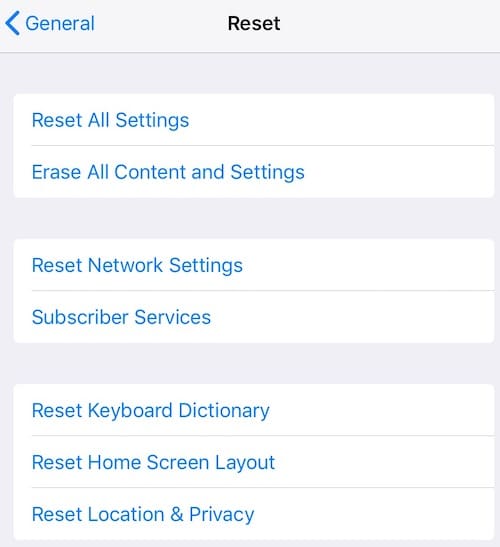 To Factory Reset your iPad, simply go to Settings > General > Transfer or Reset iPad, choose Erase All Content and Settings, and then press Erase. If you're running a previous version of the iPad, you might only need to go to Settings > General > Reset. The process to reset your device will thereafter be guided by it. Additionally, before doing the reset, you might need to boot into recovery mode.
Why Does My iPad Pro Turn On By Itself?
Of course, now that we've looked at a number of causes for why an iPad can shut off at random, we can also talk about potential causes for why an iPad might turn on at random. Fortunately, this one is probably a little simpler than the device going off without warning.
If you discover that your iPad is turning on at random, a Bluetooth accessory or a really smart cover is probably to blame. An iPad can be turned on via Bluetooth devices, and a smart cover can also achieve this. In light of this, you might want to try off your Bluetooth, which is possible to do through Control Center. By going to Settings > Bluetooth, you may disable it. You may also delete certain devices from your system while in the Settings window by right-clicking on them and choosing Forget Device.
However, to avoid having to reconnect everything again, I would just turn Bluetooth off. If disabling Bluetooth resolves the problem, you should start forgetting devices to identify which one is to blame. You could also want to examine if the problem is being caused by your Smart Cover.
Read More: Best Ways to Restore or Factory Reset Your iPhone Outside of iTunes!
iPad Pro Keeps Shutting Down and Restarting: What to Do if Your Device is Shutting Down Randomly
It can be really unpleasant when your iPad restarts at random. If you frequently find yourself having to wait through odd restarts, it might be difficult to do any job. If the battery isn't the problem, it's most likely a software problem. However, customers should also be aware that if none of these fixes work for them, they may want to seriously think about calling Apple Support. There might be more serious hardware problems at work.
The iPad is an excellent tool, especially for people who adore graphic design. There are many things you can do with the gadget, from lounging in bed and watching streaming services to playing a range of games. Of course, the device works best when it's in good working order, but if that's not enough for you, we also have other options.
We can advise you on what to do, for instance, if your Auto Brightness is giving you problems. We can also demonstrate how to enlarge your keyboard. However, solutions to issues with the iPad are typically only a short distance away.