As a Tiktok fan, you may have noticed that users have been receiving crowns on their TikTok Profile pictures for the past several days. When it comes to getting the crown on your profile photo, a lot of people are looking for answers online. A crown on your profile photo is a popular request, so if you're one of those people, this post is for you.
As we all know, Tiktok is always adding new features. Please be aware of the recent addition of this new feature:
You may be surprised to learn that many people who received this crown on their profile photos are still unsure of how they obtained it. They've merely employed a filter known as the Magic Animation effect, as I can tell you. Actually, TikTok is rewarding users who frequently use new features with a crown to display their accomplishments. It's merely a token of gratitude from the TikTok team.
If you add this crown frame/magic mirror frame to your TikTok profile, you may make your TikTok profile stand out from the crowd and be more attractive as well. Many TikTok users have already created videos demonstrating how to add the new functionality to your profile image.
You can get a crown frame on your TikTok profile using any mobile device, whether it's an iPhone, iPad, or Android, by following the instructions in this post.
WHAT DOES CROWN MEAN?
Tiktok is one such software that strives to keep its users entertained and engaged at all times. Many users are baffled by this new feature, which has just been introduced.
As previously mentioned, crowns have been appearing on some individuals' profile images for the past few days, although no one knows what they symbolize exactly.
That crown has some significance, don't you think? What are your options for obtaining one? To get the answers you need, continue reading.
The crown on the profile photo is, in fact, a reward from TikTok. A new function is always being added so that users who utilize it get a crown to put on their profile picture as an instant reward. Do you find it fascinating?
Like the Cartoonify effect that went famous in the last year, this filter lets a cartoon character from a Disney movie appear on your photos
ALSO READ:  How To Earn free PokeCoins In Pokemon Go: All Authentic Ways
How to get a crown on the TikTok Profile Picture?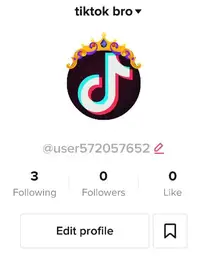 If you desperately want to get the crown on TikTok, then just follow the simplest steps given below :
1)First of all, click on the "+" symbol on your Tiktok Profile and then start creating a new video.
2) After that, now you have to go to the "Effects" Section.
3)Nogo to the trending tab, here you will get an effect that shows a face with shiny glitters in the background. This is called the Magic Animation effect.  Pick this effect instantly.
4)Now get set to shoot a video of your choice and use this effect and then post it.
As soon as you do that, the crown will soon appear on your profile picture. Now many users ask the question that whether it is necessary to keep that effect on the picture to hold the crown on the picture.  So let me clear your doubts guys. NO, not at all,  you don't need to keep that video on your profile any longer if you don't like it. The crown on your profile picture will still be there. It will not get disappeared.
NOTE :
You'll get a crown on your profile picture after you publish the video. The whole process is so quick and simple that it's become somewhat of a fad among social media users. Despite the fact that this trend isn't particularly fascinating, we know that today's audience and users are a lot more interested in following trends and making content go viral. A viral trend has led to yet another result. Because of how widespread this TikTok trend has become, everyone wants to know how to get a crown on their profile photo.
TikTok's Magic animation effect has seen a significant increase in popularity as a result of this.
READ MORE:  Best Minecraft shaders on Windows PC To Try In 2022
How To Earn A Crown On TikTok Profile Picture?
It goes without saying that Tiktok does not require any introduction on a worldwide scale. Everyone loves it because it's a well-liked social networking program that makes everyone's life more enjoyable. Because of this app, users have more pleasure and earn more money. Many Tiktokers have become millionaires thanks to their work on this app.
Bytedance is the Chinese firm that owns this software. Video lengths range from 15 seconds to three minutes on the site, which features a wide variety of short clips. Douyin is the name of this software in China. This app first appears in 2016 and quickly becomes popular all around the world…
Now if you want to earn a crown on TikTok,
There are a few things that you need to keep in mind. To achieve this, the user must be well-liked by the app's users and their content must become viral almost immediately, regardless of what they post. The user's material must become a model for the rest of the site's users. In addition, users must be die-hard Tiktok supporters or contributors who publish new content on a regular basis. He or she must actively participate in all internet trends. Their originality and impressiveness must be such that other users want to emulate them in their own work. Finally, the user must be a well-known and well-liked figure.
Final Words
Please read on to learn about how to place a crown on your Tiktok profile photo. I sincerely hope you've gained something from reading this. Make sure to spread the word to everyone you know, including your TikTok coworkers, so that they too can get their hands on this unique crown in a matter of minutes.
Hope you all enjoyed reading this article on How To Get Crown on Tiktok Profile Picture 2021 well, for any doubts contact us on Instagram and subscribe to us to get the latest updates on Instagram filters, TikTok filters, and Snapchat instantly!