miHoYo recently organized a live stream for Genshin Impact version 1,5. The studio revealed exciting news about all things that will be added to the game on April 28. Gamers will get a chance to journey alongside Zhongli once again, while he is going to receive a re-run banner of his own. Not just that, the studio also shed light on new world bosses, new characters, 2 artifact sets, and a 5-star weapon.
The studio revealed the name and statistics of two brand-new artifacts in the live stream. They are going to be called Tenacity of Millelith, and Pale Flame, which will offer unique bonuses. You can find the images and bonuses that these sets will offer in the aforementioned image.
First up, the Millelith set seems like a supporting artifact that could go well off-field support units. It offers the lucrative 20% HP bonus, and a vital attack buff that will be further enhanced with a shield. The only downside is the limited 3 seconds duration of the buff, which will affect its viability. Elemental skills generally come with a rather elongated cooldown that does not synergize with this set.
Safe to say, if things remain the same after the update goes live, this set will not feel as important. On the flip side, the Pale flame feels overpowered on paper, and it could alter a lot of physical DPS builds.
Highlights:
Two New Artifact Sets Were Revealed During The Genshin Impact 1.5 Update Live Stream.
The Zhongli repeat was confirmed during the Genshin Impact 1.5 update preview live stream.
Players will be able to put their skills to the test in the Misty Dungeon's new Domain.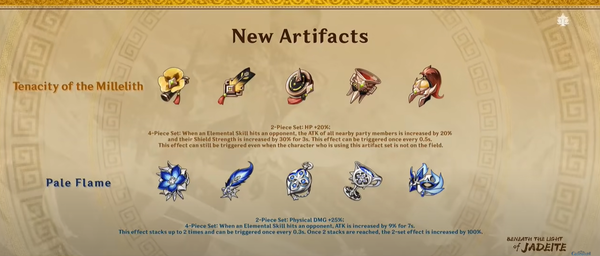 Genshin Impact places a high value on the use of weapons. You can have the best character in the game, but without the correct weapon, they may not be able to reach their full potential. Just recently, Genshin Impact received a significant update that included new weaponry.
All of this, as well as the normal new Artifacts and weapons that come with each new open-world RPG release, will be available in the next expansion. All the details about Genshin Impact 1.5 are here for those who are keen to learn more.
Pale Flame and Tenacity of Millelith were shown off during the Genshin Impact 1.5 live webcast before their official release. Eula may benefit from one set, whereas Zhongli may benefit more from the other.
Live stream footage further confirmed that the Zhongli banner is indeed real. The tenacity of the Millelith, a new 5-star artifact set, makes its debut as Zhongli returns to the gacha banners following the revisions to his damage multipliers.
Genshin Impact 1.5 Update: New character's skills and weapon
In addition to having Cryovision, Eula is also a claymore-wielding five-star character. She will be able to obtain Grimheart by striking an enemy with her elemental skill. The Grimheart's defenses and resilience to interception have been bolstered by this. Eula's elemental skill will consume all of the Grimheart while lowering the resistance of the surrounding enemies.
Yanfei Yanfei is a new four-star character following Rosaria. Illuminated animals include her as a member of the Pyro element. As a catalyst user, she should be able to match Ningguang in strength. Scarlet Seals reduce the amount of stamina consumed by her normal strikes, elemental burst, and elemental skill. In addition, her charged assault will consume all the Scarlet Seals in the vicinity, increasing the area of impact and damage of her charged attack.
Thank you for your time and attention!