The Google Meet grid view has been broken for the previous two days. When Google Meet was still in its infancy, a grid view was not yet conceivable in Google Meet. Fortunately, the Google Chrome extension cured this problem after a while. Google meet grid view isn't working, and many people have experienced this problem as well. How do we proceed? Everything you need to know about how to fix the problem of the Google meet grid view not working can be found in this post, so don't waste your time.
Every aspect of our lives has gone digital, as we've grown to expect. Everything from shopping to learning to reviewing to leisure can now be done online. Google Meet, zoom is the primary choice when you want to buy anything, communicate with anyone, or hold professional meetings or seminars.
Google Meet grid view option not working
As told earlier, The extension of Google chrome to enable a grid view of Google meet helped the users have a grid view while doing official meetings via video conferencing. But as of now, many are struggling with this issue as the extension is not working efficiently. So the requirement is to get an update on this extension. So simply, what you can do at first whenever you face this issue is to reinstall the grid view extension.
for this, you first have to find out the Google extension in the chrome web store. If you get successful in finding it and then installing the extension, then users can easily access the Google meet grid view option. As this feature is not given by Google meet officially. you can access this feature only after getting and enabling this extension.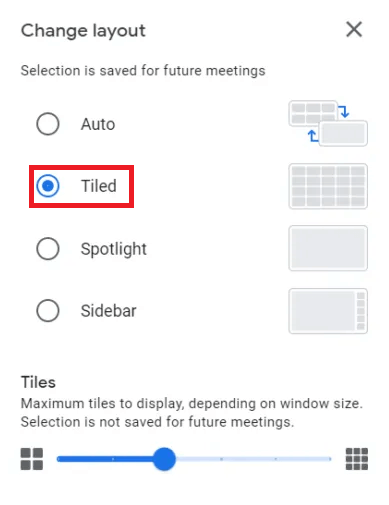 It also adds many exciting features which you may not be able to get in the simple Google meet app. Like if you want to show all the participants that have turned on cameras, then also it can be done easily with this single extension. Moreover, with this extension, you can highlight yourself in the video call, etc.
READ NEXT: How To Earn free PokeCoins In Pokemon Go: All Authentic Ways
Best Fixes to Solve Google Meet Grid View Not Working Issue
Fix 1. Check Whether the Extension Is Installed Successfully
The most common cause of the Google meet grid view not working can be that the extension to allow this functionality is not activated on your device. As previously stated, this feature is not included as part of the Google meet experience. To do this, you'll need to download and install the extension for Google Chrome.
Even if you've installed the extension, it may still not be working. This could be because the extension was improperly downloaded and installed.
Exactly how can you know whether the extension has been deployed correctly?
You'll need to follow these simple steps to accomplish this:
Click here to open Google Chrome in a new window.
A three-dot icon will appear in the right-hand corner of your screen.
To access other tools, simply click on the three dots in the upper-right corner of the screen.
Extensions can be found in the More Tools section.
Check the Extensions page to see if the Google Meet Grid View is available. If not, add it. If it doesn't work, please reinstall it.
Fix 2. Update the Extension
For those who are unfamiliar with such matters, the following actions can help:
It's available on Google to meet, so open it.
You'll see a meeting screen pop up.
The grid option can be found in the upper right corner of the meeting screen.
This grid can be seen next to the chat option if you click on it.
A drop-down menu will display after you click on it.
It's possible that Chris Gamble has released an extension here.
Make a quick click here!
A new window for Chris Gamble's Grid view addon will open as soon as you click on it.
Look for the section of the page that says 'official release' in this section.
As soon as you locate the installation button, simply click it.
To remove all previous grid extensions, visit the Chrome extensions page.
Check to see if the problem has been fixed by restarting google meet.
Fix 3. Use Alternative Extensions
The other method you can try to fix the issue of the google meet grid view not working is to try out the alternative extensions because there are many other similar extensions that work the same and can solve this issue.
Fix 4: Access Google Chrome With New User Profile
Google Chrome's services can sometimes cause problems with a single profile. It also works flawlessly on the rest of them. As an alternative, you can attempt this remedy, which involves creating a new Chrome user profile, logging in with Google Chrome, and then accessing Google Meet Grid View again to see if that helps.
With the help of Chrome profiles, new extensions, bookmarks and preferences can be organized. As a result, Chrome users can use their user profiles to distinguish between personal and business browsing activities. It's also a great tool for building extensions.
Chrome is the browser of choice for this.
Open the menu list by clicking on the three dots in the upper right corner.
This list has all the options you'll need.
Right-click anywhere on the screen to bring up a context menu.
Under the Person Section tab, you'll notice an Add person option now.
You can use whatever fictitious persona you choose.
To begin, type in the user name.
In order to sync your Chrome profile with your Google account, sign in to the linked Google account.
You may now use Google Chrome to swap between your various Google accounts. This can be located in the web browser's upper left-hand corner. "Switch Person" must be selected to change Chrome's user without any issues. It's finally possible to use Google Meet and Grid view.
READ MORE: Here's What All The Crowns On TikTok Mean And How To Get One Yourself
Final Words :
"Fix Google Meet Grid View Not Working" is the topic of today's post. I'm hoping you've completed all of the necessary repairs by now. Let us know which of these changes worked for you in the comments section below. For that matter, if you think of anything else, please share it
with us in the box provided below. We'd be delighted to hear your thoughts.
In the meantime, keep an eye out for additional developments!