class="entry-content no-dropcap">
It is evident that OpenAI is not producing the upcoming iPhone. But what about Windows 2023?
The collaboration between OpenAICEO Sam Altman and former Apple designer Jony Ive on a new project was first reported at the end of September. Many people believed at the time that the two were developing an iPhone replacement to usher in the era of artificial intelligence for smartphones.
But Altman batted down that notion in a recent interview with Joanna Stern of The Wall Street Journal, stating he had no interest in attempting to compete with the smartphone. Nevertheless, Altman stated, "I think there is something great to do but I don't know what it is yet," acknowledging that the two were collaborated.
Parker Ortolani, a designer, seemed eager to speculate on what that object could possibly be. Ortolani developed an idea for gptOS, a brand-new operating system driven by OpenAI's ChatGPT and DALL-E technologies, in place of a smartphone. According to the designer, this new operating system is intended more for low-end devices like Chromebooks, iPads, and low-end Windows PCs than it is to replace high-end Windows or Mac computers.
Post by @parkerortolani

View on Threads
It's a really interesting concept. You could ask your computer anything, as you can see here, in place of a search box for a search engine like Google Search. Additionally, it could connect to almost anything on the internet and on your computer thanks to ChatGPT and DALL-E's power.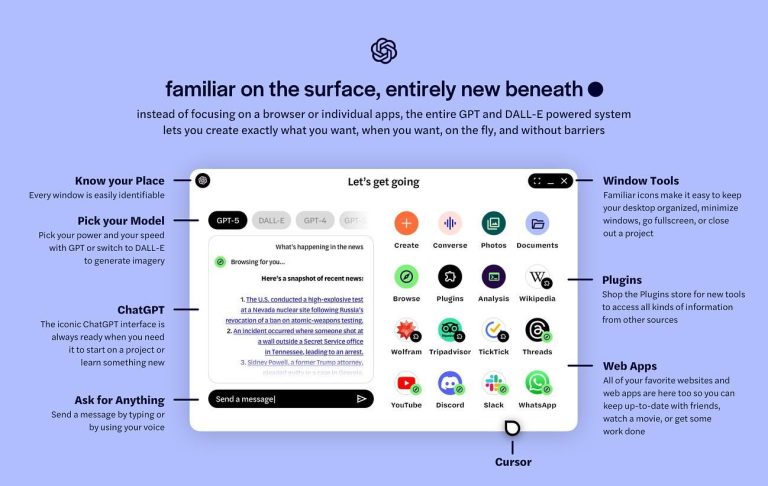 Because of the possibilities of OpenAI's products, Ortolani also sees the operating system as an integrated creative tool that can assist you in creating documents, photos, code, and more.
If the company opted to move forward with something similar, this might be a pretty attractive offering, especially given the strong relationship that OpenAI has with Microsoft.Given that Google's Chromebooks are clearly superior to low-end Windows PCs, the firm has essentially taken over the low-cost PC industry. This presents Microsoft with an opportunity to compete with Google in this market.
We'll have to wait and see what Sam Altman and Jony Ive have in store for us, but this idea is undoubtedly one of the most intriguing ones I've seen for what may be an OpenAI project in the future.