Apple has released its latest update iOS13.5.1 and I was discussing it with my friends. The conclusion, I came to know is that users around the world are not happy with the latest update. So, I thought of sharing some Common iOS 13.5.1 Issues and Problems.  Moreover, I will share some key facts about this update also. The latest update always creates a thought process of "what's New this time?" But what if we are not getting anything with a recent update but a lot of bugs!
Though iOS 13.5.1 covered the main jailbreak problem it brings a lot of errors and bugs to your phone. Along with better security, the additions this upgrade brings are special settings for the COVID-19 pandemic(detects face wearing a mask), iCloud Folder sharing, Better group face time, new attractive emojis, etc. Obviously, there are pros but cons are. Users are reporting issues such as UI lag, AirPlay issues, Touch ID and Face ID issues, weird battery drain, issues with first and third-party apps, Exchange issues, HomePod issues, iMessage issues, Wi-Fi problems, Bluetooth problems, CarPlay issues, lockups, freezes, and crashes.
iOS 13.5.1 Reviews
If your iPhone is running iOS 13.5 right now you'll see a tiny download when you go to install iOS 13.5.1. The iOS 13.5.1 update is a 77 MB download for the iPhone X. It should be around the same size as other iPhone models though the exact size will vary.
If you're running an older version of iOS 13 on your phone you'll likely see a larger download size because your iOS 13.5.1 update includes the changes from iOS updates you skipped.
If your phone is running on iOS 13.5, the iOS 13.5.1 installation shouldn't take more than 10 or 15 minutes to complete. It took about seven minutes to install on the iPhone X.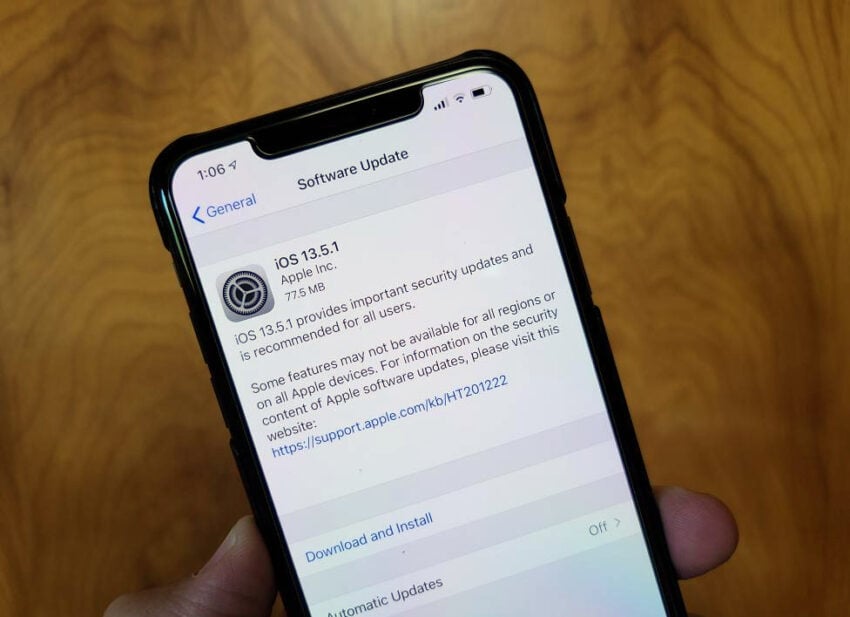 We've been using the iOS 13.5.1 update for several weeks and here's what we've discovered about its performance thus far:
Connectivity
Battery life is stable.
Wi-Fi connectivity is fast and reliable.
Bluetooth is working normally.
GPS and cellular data are stable.
Apps
Third-party apps including Netflix, Dark Sky, Twitter, Slack, Asana, Gmail, Chrome, and Spotify are all agreeable with iOS 13.5.1.
First-party apps like Safari, Podcasts, and Calendar are also working fine at the moment.
Speed
iOS 13.5.1 currently feels as fast as iOS 13.5.
If your iPhone is struggling on iOS 13.5 or an older version of iOS 13, you might want to install the iOS 13.5.1 update on your iPhone right now.
ALSO READ:  How to Install Kodi 18.6 On Firestick Tutorial In June 2022
iOS 13.5.1 issues
The real issue with the 13.5.1 update is that it does not cover jailbreak. Any user who wants to jailbreak their device, should not update this.
The commonly recorded iOS 13.5.1 update bugs include  Bluetooth connectivity issues, Face ID errors, keyboard prediction errors, and wallpaper glitches.
FaceID may refuse to initiate if you have updated to iOS 13.5.1.
Some users have reported that the GarageBand app might crash when opened.
Some users have also been accused of battery drain issues.
Mp4 playback problems haven't been fixed.
Boot problem not fixed.
How to decide whether to update the device or not?
In this case, I would advise you to join online discussion forums where users share their experiences. To Know, Common iOS 13.5.1 Issues and Problems, visit the platforms given below.
Twitter/Facebook
MacRumors forums
These platforms help you to get a real idea about the upgrade.
How to Upgrade to iOS 13.5.1?
Power your device and connect to a good wi-fi connection.
Now, Go to settings -> general settings.
Scroll down to "software update"
Click on the download button there.
Then click on install. Enter your passcode.
Restart your device and check the upgrade.
How to Downgrade from iOS 13.5.1?
If you are not happy with the update, you can downgrade your phone to iOS 12 from iOS 13.
Download 12.4.1 from the official website.
Check if there green tick on the Apple Signing Status column. Do not proceed if absent.
Turn it off Find My iPhone on your iPhone.
Then Go to Settings
Click on your name at the top of the settings
Go to iCloud -> Find My iPhone -> Toggle off. Password is required, make sure to enter the correct one!
Now plug your phone into a computer.
Open iTunes and click on the iPhone icon.
Click on the Restore iPhone button. (Mac -> alt/option) (PC-> Shift )
Find the downloaded file and click on install then.
ALSO  READ:  How To Change Your Display Name In Roblox: A Step-By-Step Guide
Our Verdict
We would recommend to users that do not jailbreak their hone and if it already is jailbroken then update your device with iOS 1.5.1 to add more security. Jailbreak allows you to download third-party apps but it also puts the phone at other risks and can be exposed to be exploited maliciously. So, Upgrade to 13.5.1 to uncover jailbreak.
So I have shared some Common iOS 13.5.1 Issues and Problems. I hope you would find the article beneficial.
Share your feedback. Mention in the comments if you need to know more!
Thank You!